Being in great shape is every person's dream. Whether it is about losing weight or gaining muscle, it is always preferred that a person is fit and well. At the start of every year, a lot of people vow to get started on their goals.
Why a Need for a Good Workout App for Women & Men in 2022?

They aim to eat healthily and join a gym or attend boot camps to lose weight. However, as the year proceeds people forget about this.

Lack of time and financial constraints often limits a person to pay gym membership fees. It is very hefty. It is heavy on the pocket and often makes you go beyond the specified budget you had set for the month.
Not to forget that gyms and classes are usually scheduled around a specific time. It might not suit your timetable because of your commitments. Sometimes you are unable to fit that time even if you have no financial constraints stopping you.
No matter what the case is, you might find yourself in a position where you want to get healthy and be in good physical shape. Factors might stop you from going to the gym. However, you can now workout at home. Many applicants have made their way on to the market. They are offered on Google Play Store.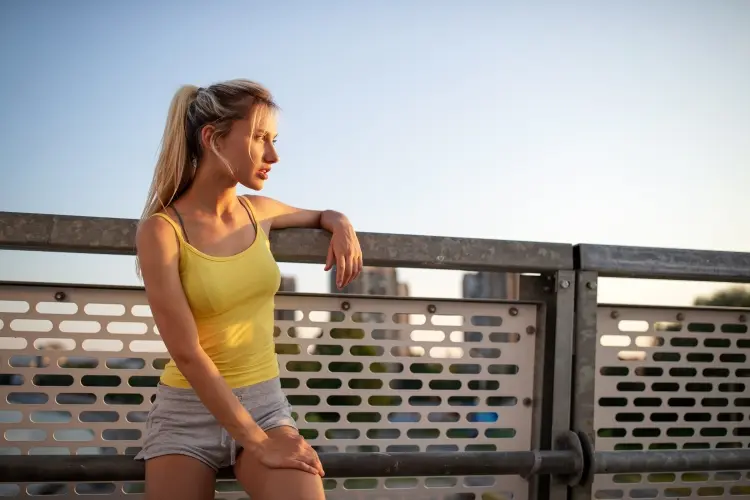 If you are looking to get in perfect shape at home and give your body the kickstart it needs, then this is the perfect way to do so. You can do it at the convenience of your home with little monetary investment. Down below is a list of all the best workout applications that are available for both the genders. They differ slightly in the way they operate and the features they provide. Nevertheless, they are all top-notch and will provide you with what you are looking for. The top 10 apps for Android users are listed below.
Summary of Best Workout Apps in 2022
The chart below lists some additional information about these 6 workout apps. This can assist you in choosing what you want to opt for.
| | | | | |
| --- | --- | --- | --- | --- |
| Name of App | Rating | Rated for | Size | Downloads |
| WORKOUT TRAINER: FITNESS COACH | 4.3 | 3+ | Depends on the phone | 10 M+ |
| EXERPRISE - WORKOUT GENERATOR | 4.7 | 3+ | 126 MB | 50 K+ |
| WEIGHT LOSS RUNNING BY VERV | 3.8 | 3+ | 51 MB | 1 M+ |
| DAILY CARDIO WORKOUT - AEROBIC FITNESS EXERCISES | 4.5 | 3+ | 11 MB | 1 M+ |
| FEMALE FITNESS - GYM WORKOUTS | 4.7 | 3+ | 42 MB | 1 M+ |
| ULTIMATE FULL BODY WORKOUTS | 4.6 | 3+ | 14 MB | 1 M+ |
Details of the Best Workout Apps

1. Workout Trainer: Fitness Coach
Let us face it. Summer is around the corner and we all want to hit this summer with a beach body. If that is what you desire, then this is the perfect application for you. It is going to get you a killer beach body. It has numerous programs with varying difficulty levels . From people who just started to people who have been around for a while, it covers it all. Some attractive features of this app are listed below.
It provides instructions through multiple audio and visual aids such as pictures, videos, and even audio clips.
Weekly programs to suit your workout progress.
It also features a personal trainer that can guide you through the app.
Some features may only be accessible to people who bought the Pro+ membership such as personal training.
https://apps.apple.com/us/app/workout-trainer-fitness-coach/id395686735
Follow the link above to see more about this app along with the reviews of users.
2. Exerprise-workout generator

Exerprise is an excellent workout app for anyone who wants to mix up their workout routine . As the name suggests, it generates workout routines for you. It does not matter if you are at the beginner level or an advanced level, Enterprise will generate it for you. This helps in making sure that your workout routines are not monotonous.
You will have a variety of workouts each time you choose to do so. This will keep you on your toes. It will ensure that you are challenged throughout the whole time. However, if you want to follow and repeat a certain workout you can do that due by picking that option. It will generate the workouts when you specify the following options.
The muscle group you wish you target e.g. chest, legs, arms, etc.
Equipment that is convenient to you e.g. dumbbells, kettlebell, etc.
How long you wish to work out and with how many breaks in between.
After you specify the above pointers, it will customize and generate workouts for you.
https://play.google.com/store/apps/details?id=com.anabolicaliens.exerprise&hl=en
The link above will guide you regarding this app. It also shows customer reviews which will help you too.
3. Weight loss running by Verv

If you are looking for an app to help you lose weight through running , then you would not find anything better than this. It is an app that was designed specially to keep track of your running. It has different training programs which you can choose from depending on your goals and preferability. You can burn calories and improve your health through this app.
It will guide you throughout your journey. It does not matter if your journey is starting as a beginner or as an expert, this app will continue to serve its purpose. It can take you for a walk, a regular run, a 10k run and even a marathon . Its extra features include meal plans and water intake reminders that make sure that you are covered from head to toe. It includes varying running options. Some options are listed below.
Walking
Running
Sprinting
Interval running
Jogging
Interval jogging
https://appgrooves.com/app/running-for-weight-loss-workout-and-meal-plans-by-grinasys-corp/negative

This link above will really help you since it gives a lot of positive and negative reviews. This will help you better in choosing what you want.
4. Daily Cardio Workout - Aerobic Fitness Exercises

This app is great for anyone who wants to lose weight through cardio . It offers workout plans for both male and female users. You can easily use this to work out at home. This is convenient and feasible. It will make sure to keep you motivated and interested. It has various aerobic exercises and workout plans to choose from. Some of the features that are included in this app are listed below.
It has very short workouts including 5-10 mins workout.
It is suitable for both genders .
Videos a re present to guide you about each exercise.
All exercises are approved by a certified trainer .
There are instructions present for you to follow.
A timer is also present on the screen.
It does not need an internet connection.
If you wish to access further features, you can get the full version of this app. That will include various other workouts that will be customized and personalized to suit your lifestyle and goals. It will also not contain any ads.
https://play.google.com/store/apps/details?id=com.tinymission.dailycardioworkoutfree&hl=en
The link above will guide you regarding this app. It also shows customer reviews which will help you as well.
5. Female Fitness-Gym Workouts

This app was created by keeping women in mind . It is for females for all shapes . It is ideal for ladies who are looking to lose weight at home. It provides a whole variety of workouts that you can use without leaving your house. It has a very straightforward user interface . It does not confuse you. Since it is so easy, you can easily use this to assist you during your exercises . Another attractive factor is the lead trainer of this app . It is Victoria Ciudesnia. She is a European body fitness champion . She makes sure that everyone understands the workouts she does. She simplifies it and guides well. Some of its main features and highlighted below.
All workouts are of high quality .
Exercises are available for all muscle groups such as arms, back, legs, etc.
Videos and pictures are also available.
If you are not sure about your net connection, you can download videos beforehand.
It can also keep track of all your workouts . It can record each exercise, its set and how many times you repeat it.
Availability of graph that tells about your performance.
The in-app timer that you can set and track your workout.
There is a calendar in the app which keeps you informed about how many days you worked out.
You can switch from kilograms to pounds and vice versa.
The app is available in all main languages such as English, Spanish, French, Chinese, and many others.
https://play.google.com/store/apps/details?id=softin.ny.women.fitness.miss.bikini&hl=en
The link above will provide you with further details. These details can really help you in deciding if you want to opt for it.

6. Ultimate Full Body Workouts - Workout App Link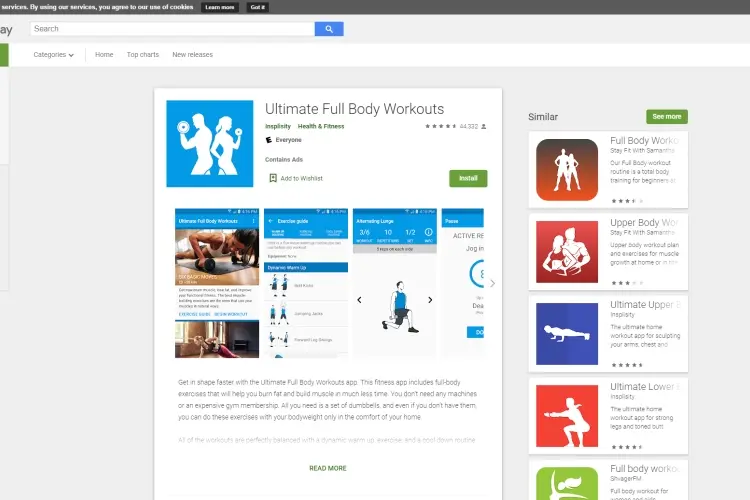 This is the ultimate app to help you get in shape in a short amount of time. It provides workouts for your entire body. The most noticeable thing about it is that it helps to lose weight but gaining muscle at the same time. Not to mention that it contains exercises that you can do with weights or only with your body weight . Nevertheless, there are options available to you. You can choose according to your preference and liking . Some of its attributes are listed below.
All these exercises are suitable for both males and females.
It makes your whole body works . It targets all the muscle groups.
You only need to follow this app's workout plan every 2-3 days .
All these will result in a very good physique. It will make your whole-body work and you will be able to feel the burn throughout your body. It is very effective.
https://play.google.com/store/apps/details?id=com.insplisity.ultimatefullbodyworkouts&hl=en
You will find the above link very helpful. Click on it to view more about the app.
Conclusion

The best workout apps available for this year are listed above. They all have different features that set them apart from each other. Their uniqueness adds to their characteristics. When choosing which one to use to get in shape, select the one that suits your capability and preference best . It will differ for every individual since every one seeks different things from an app. Nevertheless, download and get started on your fitness journey.