Are you tired of carrying that heavy credit card reader every time you move around? As the world is moving to a smarter technology for everything, isn't it time that we revolutionize the credit card industry too? The good news is that it is changing and making money-related matters easier for you by every possible means. If you are thinking of ways to dump your conventional credit card machine, there's an alternative for that too. Let's tell you a bit about them.

Credit card readers
For those who do not know about credit card readers, here is a brief introduction. Credit card readers are installed or portable machines that scan the information on a person's credit card and let you pay for anything anywhere. They are used in stores and sometimes also used by people who need to make frequent transactions.
Haven't heard of mobile credit card readers? Don't worry; we'll let you know every major and minor detail about mobile credit card readers. If you have a smartphone, you can use it conveniently as a credit card reader by connecting to an mPOS system to make transactions through your credit or debit card.
Merits of having a mobile credit card reader
· If you run a small business, having a mobile credit card reader can be a great way to cater to more opportunities and make your business successful.
· As lesser people carry cash now, you should be able to transact money anywhere at your customer's needs. And a mobile point of sale system (mPOS) makes that possible.
· You can get offers on the mobile credit card reader rather than buying an expensive electronic credit card reader.
· If you do not have a merchant account yet, you can use it to make transactions for your new business.
· Use your mobile credit card reader as a backup in case your main POS is down.
· They help you generate invoices directly through mobile.
· EMV chip cards are available, which are safer than the magnetic stripe swipe technology.
· An EMV chip card reader can also help you track the culprits in case of any thefts as the credit card companies are not liable for any loss.
· It provides easy access to customers who move cash-less.
· The payment is faster than paper invoices.
· The mobile credit card reader apps offer excellent customer service.
Best Mobile Credit Card Readers in 2022
If you are thinking of having a mobile credit card reader for your small business, let's inform you about the best credit card readers with the most extensive facilities and quality.
| | |
| --- | --- |
| Mobile credit card reader | Best features |
| Square | Best overall |
| QuickBooks GoPayments | Best for fast fund transfer |
| PayPal here | Best for PayPal users |
| Shopify | Best for in-person and online shopping |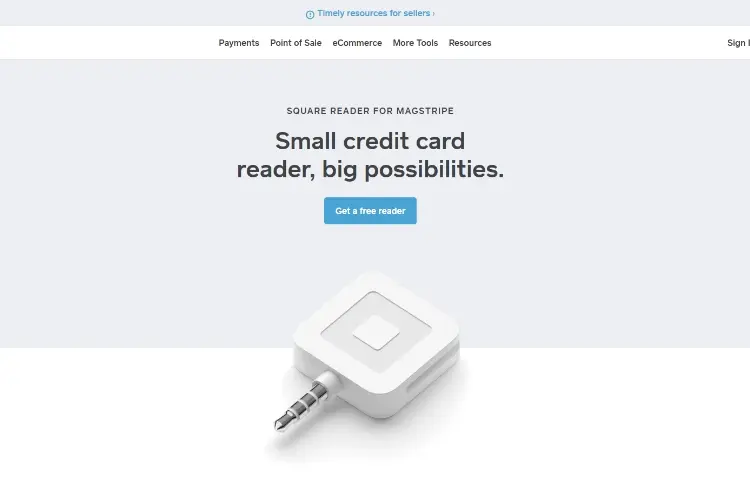 Square is one of the oldest and the most widely used mobile card reader owing to the vast number of features it has. You can make any kind of contactless , credit, and debit card transactions through Square. You can sign up for Square without the need for a contract. The easy-to-understand layout of Square makes It quite a favorite among the users. You do not even have to pay any monthly fee, and the app is without any hidden charges. Isn't that great? Talking about the cost, it charges a processing cost of 2.75% on all cards regardless of it being a credit, debit, or any other card. However, the manually entered transactions cost a bit more at 3.5% + 15 cents. The mobile POS also makes inventory management quite easy and allows multiple user access.
How does it work?
Square is available on iOS and Android by the name of the Square register, where you can register yourself as the use of Square. On signing up, you receive a free mobile magnetic stripe credit card reader from the company. The reader is necessary to make payments through your phone as a credit card reader. This is not it! You can also send receipts via email or print the receipts by connecting a printer to your tablet. Being technology-smart, Square also has the option of EMV chip compliant card reader that you can operate through your phone and make payments. Square transfers your finds in 1-2 days.
There is another way of making payments through Square is contactless payments by the use of a device. The cost of this device is $49 per piece, and it can be used to read chips and use Apple pay as well. You can also buy the Bluetooth device for three monthly installments of $17.
Highlights of Square
· No need of contract to sign up
· No monthly or annual fee
· EMV chip compliant system
· Complimentary card reader from the company
· Generate receipts and email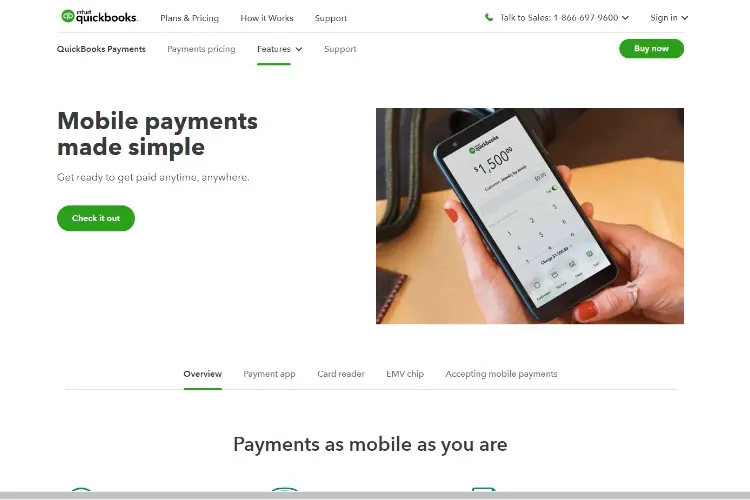 GoPayment is an initiative of Intuit that is famous for QuickBooks that are responsible for mobile credit card processing and transactions. However, to use GoPayment you do not need to have QuickBooks to process payments. It is a mobile phone and tablet compatible app with a user-friendly interface to make the money transaction process easy. It is quite convenient to access as all the details entered into the app go straight to the QuickBooks account, including the inventory, receipts, and sales, etc. The app comes with a card reader, without any extra charges. The card reader can be connected to the mobile phone through Bluetooth .
QuickBooks has 2 plans to offer:
· Pay as you go: The transaction cost if 2.4% each time with a 25 cents fee.
· Monthly plan: The monthly plan has lower transaction rates but charges a monthly fee.
But, the transaction fee for keyed entry rises to 3.4% and 25 cents per transaction.
QuickBooks GoPayment charges less as compared to many others. Yet, it does have a PCI Compliance fee depending on the number of payments you make.
Highlights of QuickBooks GoPayment
· No minimum usage level
· No setup fee
· You can track payments through the app.
· Funds are transferred in one day only.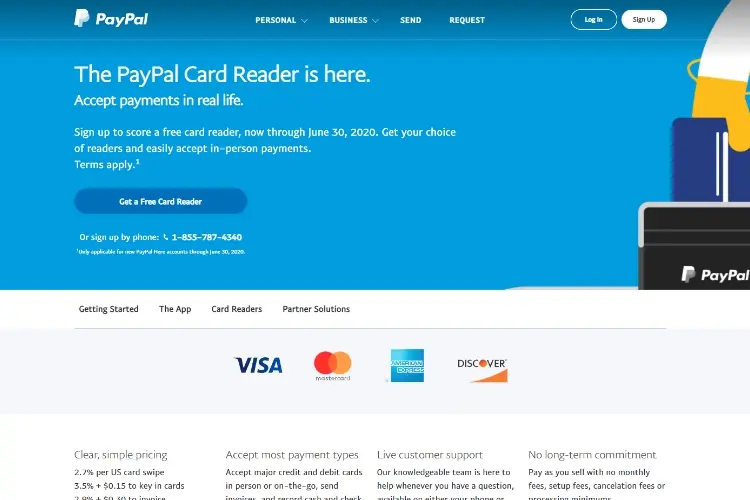 PayPal Here is a branch of PayPal to help you transfer funds to your PayPal account through the credit card. It is designed for small businesses that accept credit card payments from customers. Additionally, it lets the customers transfer funds through their PayPal account. PayPal Here is considered as the best hardware-based mobile credit card reader. The processor of the reader can be connected to your mobile phone through Bluetooth, which makes it very convenient to accept payments remotely. Additionally, you can also send invoices through the app with a 2.9% + $0.30 cost on each. PayPal Here does not have any minimum or monthly fee, but it charges a flat 2.7% on transactions.
PayPal Here offers two kinds of credit card readers; one is the mobile card reader, and the other facilitates EMV chip too. You can use both the readers through the PayPal Here app. The processor can be used simply by attaching it to the audio jack on your smartphone. On signing up on PayPal Here, you get a swiper - absolutely free of cost! However, it might take PayPal up to 3 business days to approve your account.
PayPal charges a flat 2.7% fee on all transactions with no monthly fee or minimum balance. Yet, it takes a bit longer to transfer the funds to your account than other mobile credit card readers.
Highlights of PayPal Here
· Customers can transfer funds through PayPal account too.
· You get a free swiper.
· Two kinds of card readers for your facility
· It is easily connectable to the mobile phone through Bluetooth.
· The starter card reader is suitable for small businesses.
· PayPal's Chip and tap plus are available for larger businesses.
Limitations of PayPal here
· You can transact up to $500 a month only.
· Swiped payments are subject to be reserved for 30 days to avoid fraud.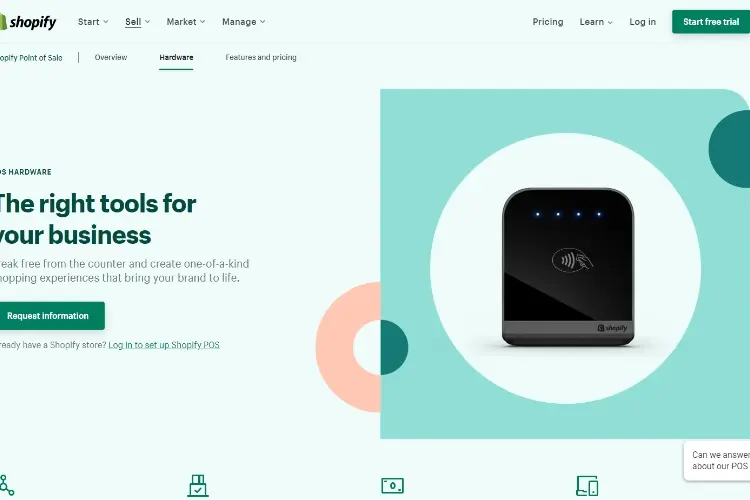 Shopify has been a convenient online selling platform for a lot of sellers. Yet, now it is a one-stop solution with its complete set of merchant services . Shopify is extensively used by retailers and small business owners to sell their good in-person and online through its mobile credit card reader. You can transact money through credit cards of customers who do not carry cash, and the app allows online shopping as well. The transaction rates of basic Shopify are 2.7% for in-person payments, whereas 2.9% for online ones, excluding the $0.30 per transaction. If you want more benefits, you can try the standard or the advanced plans offered by Shopify. The Shopify plan of $79 per month has lesser transaction rates than the basic one. And it is really affordable if you have a permanent store.
Shopify offers a free pocket-sized card reader, which makes it very convenient to be used even in events and small shop setups. You can easily make payments through this card reader. But, one thing to remember is that the card reader comes as an addition to already present services utilized by Shopify and not given as a standalone.
| | |
| --- | --- |
| Shopify package | Monthly fees |
| Basic Shopify | $29 |
| Shopify | $79 |
| Advanced Shopify | $299 |
Highlights of Shopify
· Free trial
· Online shopping facility
· Different plans to choose from
· Free credit card reader
· 24/7 customer support service
All these cards are great for you if you are thinking to get a light-weight and easy to operate card reader for your business. Find the right one for your needs and get it today to fix your needs!