Android devices have a lot of privileges, and one of them is being able to manage files without hassle. Generally, an android smartphone comes with an installed file manager; however, there is little it would do for you. For this reason, file manager apps were created for this OS.

Why a Need for a Good Android File Manager App ?

These applications are functional if you compare their features and control with the standard mobile file manager. For instance, some of them could read and access hidden files on a device. Others would explore directory, encrypt apps, create new folders, etc. Thus, they are good options you should consider adding to your phone.
In this article, I will be reviewing the 9 best file manager apps for android phones. Each of these applications has unique functions, and how they are operated differs. Since they are all Android-based apps, it would be easy for you to find them on Google Play Store.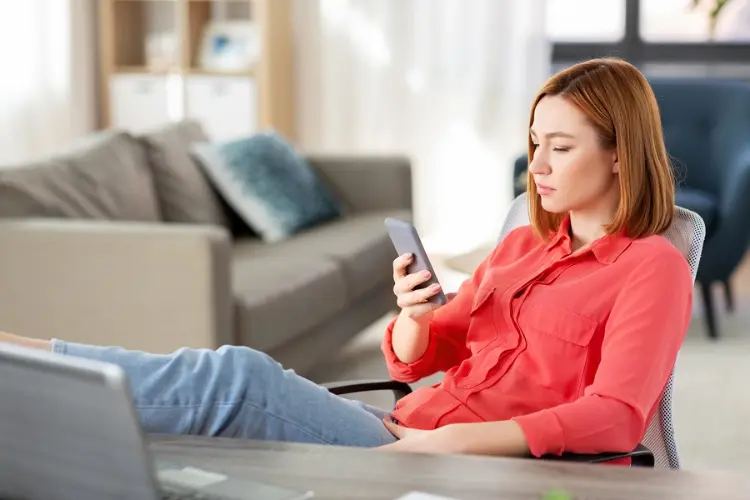 Best Android File Manager Apps in 2022
Let's read about the best android file manager apps and see what would be useful to you.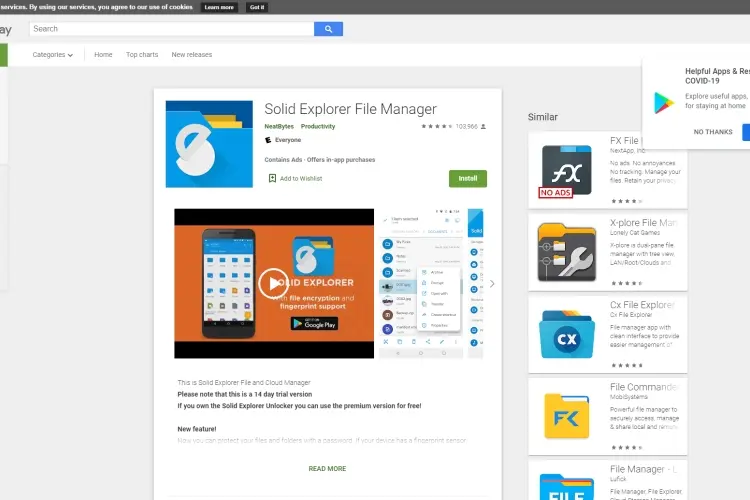 If you need a file as well as a cloud manager, Solid Explorer may be the best choice for you. It has a simple interface and a unique structure that allows you to protect files with a password. Also, it could use a fingerprint sensor to access files on them. This application has a 14-day trial version for you to understand how it works. However, the premium version requires a paid subscription or download Solid Explorer Unlocker to access it for free.
Solid Explorer has two independent panels that act as its file browsers. It also has a customization option, such as Color Schemes, Themes, Icon Sets, etc. There are several other features on this application as you explore it. Most importantly, you should know there are three different app versions, i.e., 2.7.18, 2.7.17, and 2.7.16, with their features. The package size of Solid Explorer is 13.04MB.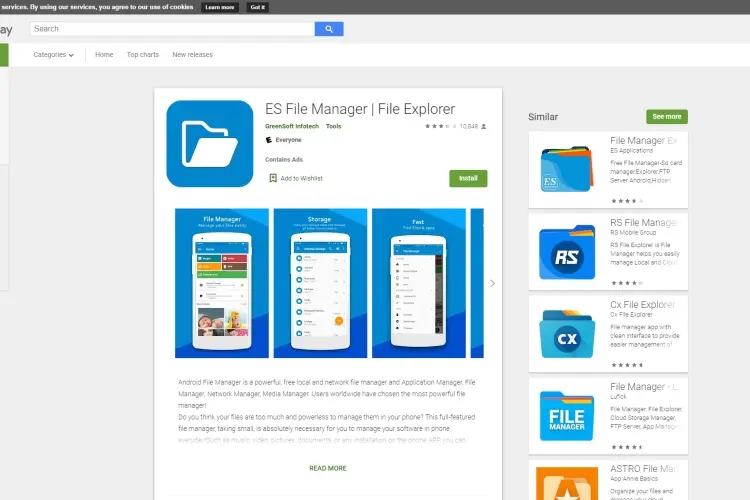 ES File Explorer is one of the most popular applications Android smartphone users use to access media files. This application allows you to manage your SD Card without having problems with it. It is powerful with free local and network settings. In case you have too many files to open, this file manager allows you to access them anywhere.
ES File Explorer has additional functions, such as being able to do Multiple Select, Cut, Copy, or Paste, Move, Create, Rename, Delete, and many others. Also, you are allowed to have cool themes customized to your preference. As long as you have it on your device, there are no limitations.
Interestingly, this application supports over 19 languages for convenience. It even allows you to view thumbnail for photos, videos as well as APK files. Overall, it is an excellent choice to download, as its package size is 4.77MB.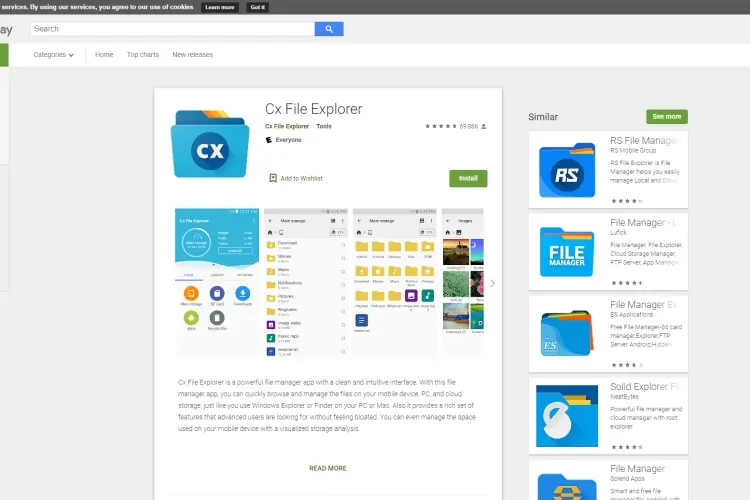 Are you worried about not getting a clean-interfaced file manager ? CX File Explorer should be easy for you to use. This app gives you the privilege to organize and manage files through its seamless material design UI. That means you can cut, copy, compress, extract, delete as well as create folders on this file manager. All of these could be done on both internal and external storage.
CX File Explorer has a feature that allows you to access Network-attached Storage, i.e., NAS. Files are shared within remote and shared storage, such as FTPS, FTP, LAN, SMB, and so on. With the FTP, you can access your Android device on your personal computer. Additionally, this application has a size of 4.78MB, with over 5M downloads on Google Play Store.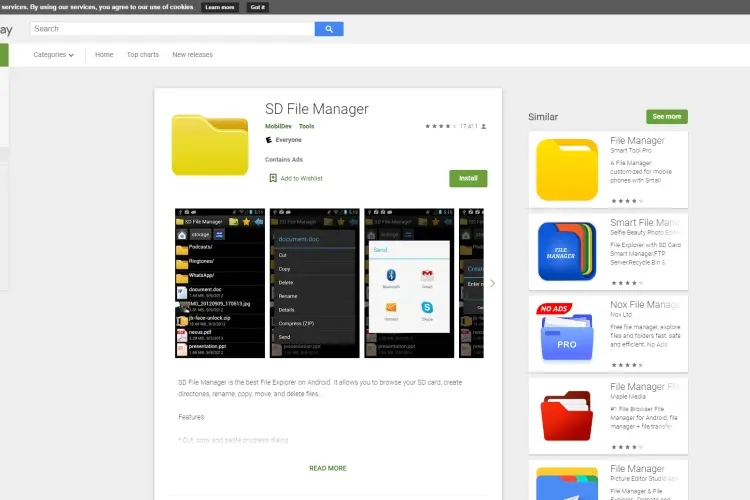 When it comes to ease in managing files, SD File Manager has an extraordinary spot on that. This mobile application for android phones would help you to read and browse your SD Card. Not only that, but it could also create directories and perform other commands such as Cut, Copy, Rename, Move, and Delete with ease.
SD File Manager, which was developed by MobilDev, has over 1 Million downloads on Play Store with a size of 1.46MB. It could be reasonably said that its performance is top-notch for that many people to have downloaded it. There is only one version of the file manager - V 1.1.5.
For your convenience, the app supports various languages, such as Spanish, English, French, and so on.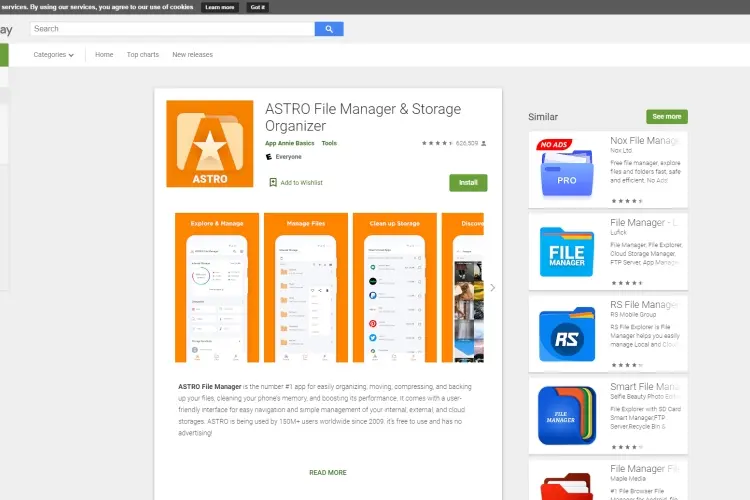 Since 2009, ASTRO File Manager has remained reliable because it could be used to compress, move, and organize files on Android devices. This application can even back up files as well as clean your phone's memory if you allow it to. The reason for its efficacy/fantastic performance is because of the smooth User-interface. Currently, it has over 150M users all over the world.
With ASTRO File Manager, you can access digital files using its built-in features. For instance, both ZIP and RAR files can be opened and extracted with their openers and extractors, respectively. Indeed, it is the perfect file manager you need to wipe storage space. The package size of this application is 5.29MB, and it is available for download on Google Play Store.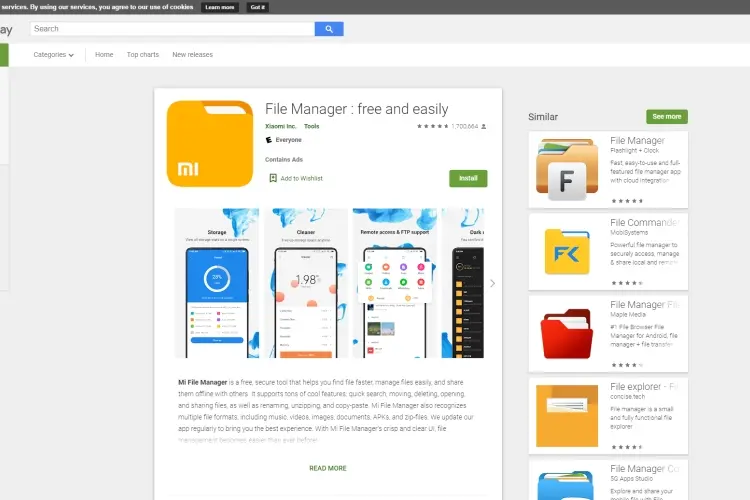 If safety is something you are dealing with, Mi File Manager should be useful to you. It is a free but secure tool that is well-equipped for file management purposes. This application can work both online and offline. There are a lot of fantastic features on this app, such as Quick Search, Move, Copy, Paste, Share, Delete, and Open options. For a beautiful user-experience, you should consider using this file manager.
Mi File Manager accesses all kinds of file formats, as well as APKs and ZIP files. Also, it has a cleaning feature that would help free storage space when the need arises. Another unique feature you will find is the Mi Drop that makes sure the file share is comfortable with other people. Mi File Manager is available in various languages, such as Bengali, Chinese, English, Española, and so on. On Google Play Store, it has over 100M downloads with a size of 15.21MB.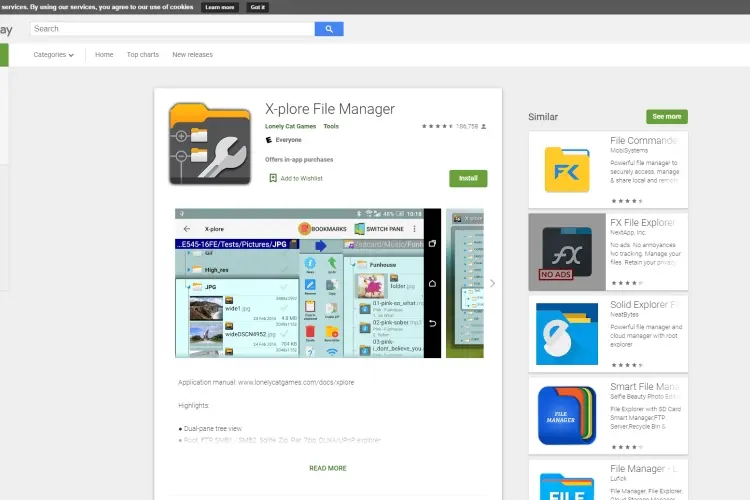 A unique attribute of X-Plore File Manager is that it has a dual-pane system, which makes file management even more accessible. It allows you to have all kinds of view, including Tree, LAN, Root, or Clouds. Although this application might seem a little complex to use based on its design, there is a manual to guide you through.
X-Plore File Manager is more comfortable to use, as it has several features to aid its performance. For example, there is an inbuilt viewer for media files such as images, audios, as well as texts. Also, the PDF and HEX viewers available have their significance to users.
On this application, you will find configurable buttons and key shortcuts that would make things straightforward for you. Overall, it is one of the best options you have. You can download this 5.80MB application on Play Store.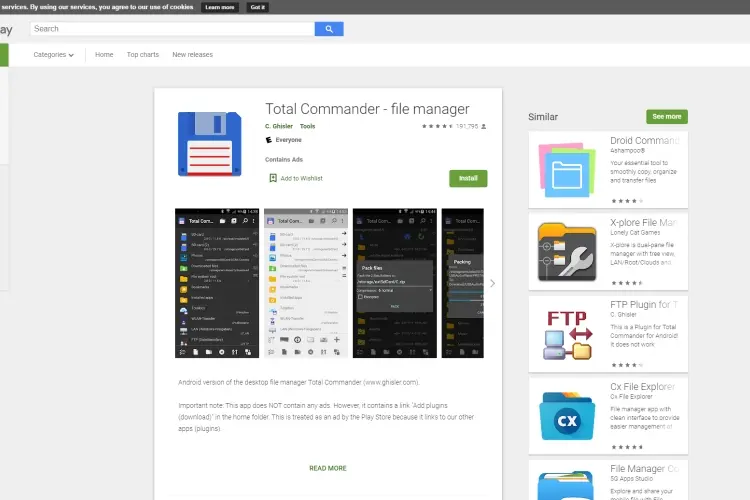 Ghisler is a desktop file manager; however, it was developed into an application for Android devices and was called Total Commander. The exciting thing about this mobile app is that it doesn't follow the trend of most file managers with ads - no pop-up ads in its case. In agreement with that, there is a link for Add-Plugins, as described in the home folder.
Total Commander has several features that contribute to its effectiveness. Drag and Drop, Built-in Text Editor, FTP, and SFTP, Search Bar, LAN access are some of these features that play significant roles in usability. Also, the application can read thumbnails for photos and texts. About languages, there are several of them that it supports. Currently, there are over 10 Million downloads of this 1.99MB-sized app on Play Store.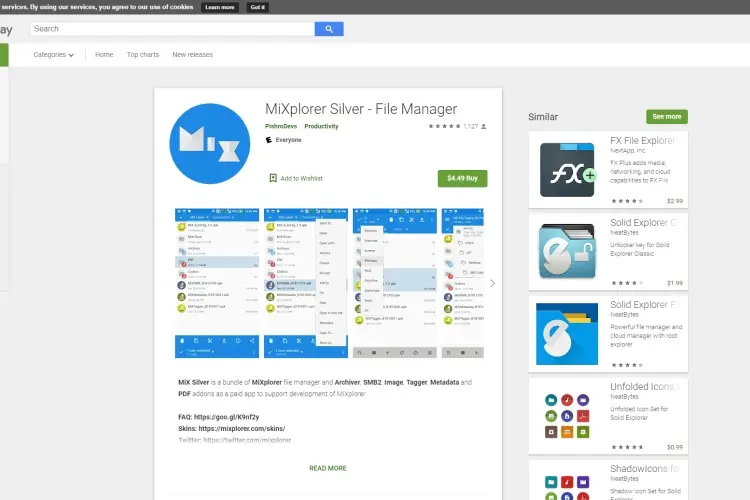 The last file manager app for Android you may want to consider is MiXplorer Silver. It acts as a full-featured application because of the several numbers of things it could do. For example, it is a Root Explorer, Archiver, as well as a Tag Editor. There are so many addons on this app, but that requires a paid subscription to access them.
MiXplorer Silver has unlimited tabbed browsing with a dual-panel using a landscape mode for convenience. You could even create tasks as well as customize bookmarks for yourself. The various view modes of this application have made it one of the top choices of file management apps to use in the present day. This application has a file size of 8.29MB with over 10,000 downloads.
Conclusion
By now, you must have figured out that there is more to the file manager on your Android device. Above are better alternatives you could download from Google Play Store with ease. You never can tell how effective it would be for you in the future. Choose and download from the 9 best file manager apps for Android that offers features that you desire. In the end, you would discover you have made one of the best choices you won't regret.