When you redesign a room, you know that every detail matters. The same is valid with bathrooms, which is why vanities are so important. While it is not used as much as the toilet or bathtub, vanity will be a focal point in your home. You want something that goes with your space but also stands out and serves its purpose. The following are a few tips for shopping for a new vanity.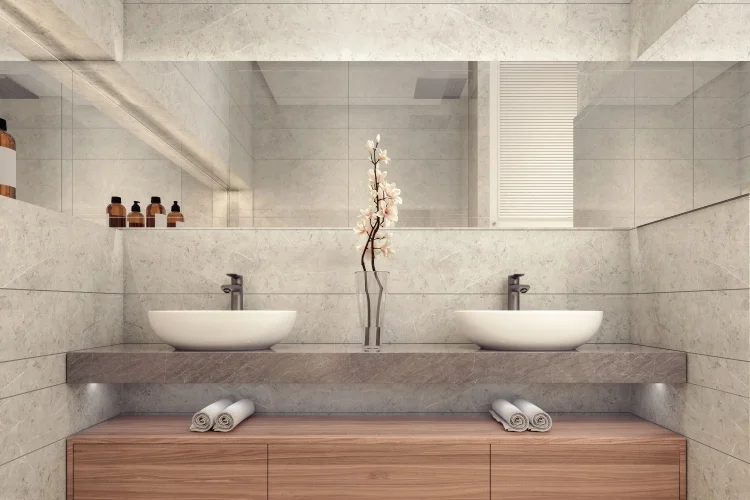 Use Sets
When shopping for vanities, you want everything to flow together. You can make this easier on you by purchasing sets. A set will simplify your life by offering mirrors, faucets, cabinets, and lights that all match. Everything is cohesive, and it is easier on the budget. Purchasing a set is often cheaper than buying each piece separately. One thing to keep in mind is that sets will not give you as much variety as mixing and matching.
Budget Considerations
Before you start shopping, you will want to look at what your budget can afford. Amazon, for eample, offers a variety of options for any price range. When you are looking at your budget, you will want to factor in the cost of the basin, mirror, lighting, countertops, and storage. Your vanity is where you will spend time preparing in the morning, so you want something that meets your needs and is durable.
Space Available
The best part about vanities is the fact they work in a washroom or a powder room. If you are looking for something more extravagant but do not have the space in your bathroom, consider adding a vanity into a separate area. Make sure you measure several times before making a purchase and consider doing a mockup to ensure the vanity you select will not make your room appear cramped.
Intended Purpose
There are two main types of vanities, one with storage and one without. If you are redesigning a small bathroom, you might consider a free-standing basin with a floating shelf and mirror. However, if you need something to hold your appliances and toiletries, you will want a full vanity with drawers and cabinets. Consider everything you want from the space before starting shopping, including how much maintenance you have time for.
Lighting
Vanities are where you spend your mornings getting ready for the day. You will need to make sure you have adequate lighting to do your hair, makeup, shave, and so forth. Sconce lighting can prevent shadows from prohibiting your ability to see clearly. The lights should surround the mirror to avoid reflection issues. However, you can also use backlighting to create a unique atmosphere. Evaluate your needs and then shop for the types of lights that will work for you.
When you are redesigning your bathroom, look at the entire layout of the room and the color scheme you are selecting. You may want to go with a dark vanity in super light rooms to create a nice contrast. With the vast amount of options available on the market, you can shop and plan before purchasing. You want to go in with an informed decision, so you end up with a design that you love for years to come.